It is with sorrow I share with you the passing of Carl Bryan, Bakersfield College's longtime sports announcer. He retired earlier this year after 35 years of announcing BC sporting events.
Please join me in a quiet moment as we remember the Voice of the Renegades…
I was also saddened to hear that trailblazing journalist Barbara Walters died yesterday at the age of 93. She began her career with NBC's Today Show and became the show's first female co-host in 1974. In 1976, she left NBC for ABC, and became the first female evening news anchor.
***
Earlier this month, the Kern CCD Board of Trustees President Romeo Agbalog swore in 4 of the 7 trustees who start their new terms. Trustees John Corkins, Kyle Carter and Nan Gomez-Heitzeberg are incumbents. Jack Connell retired and Trustee Christina Scrivner replaced him on the Board.
I look forward to what great things we will accomplish for our students and our communities in 2023 and beyond as we continue to #DareMightyThings.
Good morning and Happy New Year Friends.
It is December 31, 2022
The sun shines bright over Kern CCD
As I begin my 10th year blogging, I wanted to continue my New Year's tradition of looking back at past blog posts. It's been quite a journey since my first post back in January 2013! This year, I'll start with our most recent posts as we work our way back through the years. Carve out an hour of your time over this weekend to click on the links and move through the memories of Bakersfield College (the first eight and a half years) and then Kern CCD for the last year and a half.
---
2022
On December 10, 2022, it was "Fall is a Wrap for Kern Colleges."
I was proud to share the work that Kern CCD had done with the Apprenticeship Forum.
"Apprenticeship and the larger work-based learning is a priority for our colleges. It is so critical for our students to receive work-based learning experience. Whether it's apprenticeship, internships, or cooperative education, it is a key factor to deepen our students' learning and understanding, and development of skills. It's also critical in creating a network of future job opportunities.
Our job as a community college district is to put community at the center; to be a resource for every member of our community to have the opportunity to be engaged with our colleges for upward economic mobility for their families.
Our commitment to creating this space for learning and earning is a transformational equity initiative, and I am excited about the work we are doing."
*****
In my November 5, 2022, post – "Kern CCD – Wrapping up an active October 2022" – I shared a few photos of our colleges celebrating Halloween:
I also shared some thoughts about Kern CCD Chancellor Emeritus Tom Burke, who was recognized at the ACBO conference:
"Tom Burke's wisdom, leadership and fiscal prudence has made the Kern Community College District a model of fiscal stability for the entire state. Since joining the district in 1997, Tom Burke has been a champion for higher education in the San Joaquin Valley. During his tenure as Chancellor, Tom streamlined district office operations, collaborated with K-12 schools on cradle-to-career educational initiatives, and helped secure hundreds of millions of dollars for facilities renovations at our three colleges.
I started at Bakersfield College as a math faculty in the early 1990s and Tom joined us in 1997 as the Business Officer for the College. His intelligence and practical approach to problem solving with a keen mind for numbers has time and time again helped the district.
Tom has been a steady rock for the college and the district over two decades and is one of the "go to" leaders statewide particularly in matters related to finances. Tom's warmth and his open, honest, unassuming style has served our district well when situations got heated.
As President of BC, I reported to Chancellor Tom Burke for five years. He was a great boss … he unified the colleges within the district…. He was always kind no matter what….. he was wise in his counsel … and constant in his support.
We all know Tom as an extremely smart guy…. And when we remember him we automatically smile and say, "he is one of the good guys."
*****
On October 29, 2022, I shared about "Kern – Creating our Future" – with a focus on the Pre-Summit Institute, "Community Economic Mobility: A Focus On Energy and Climate Resilience."
What a joy to welcome such amazing speakers to Bakersfield – including National Renewable Energy Laboratory Director Martin Keller and Lawrence Livermore National Laboratory Director Kim Budil.
Here are my remarks from the Pre-Summit –
Day 1:
*****
On September 10, 2022, we celebrated the Grand Opening of STEM Building – Thank you for voting Yes on J!
"With this building, we are upholding our responsibility to prepare students for the jobs of the future," said Kern Community College District Board of Trustees President, Romeo Agbalog. "A few years back, I read a report that said nearly 50% of jobs in the metropolitan Bakersfield area were subject to automation and this new building has never been needed more than right now. As industries innovate and evolve and new industries emerge it's our duty and responsibility to prepare the workforce of the future; especially if our region intends to lead and compete in a global economy. "
*****
In August, Kern CCD celebrates Women's Equality Day as our colleges welcomed students back to campus:
I also shared this old video from our BC team doing the ALS Bucket Challenge in 2014 – thank you to Anthony Culpepper, Jennifer Serratt and Sandi Taylor for joining me. And thank you to Todd Coston and Kristin Rabe for your help!
*****
In July, we were Wrapping up July 2022.
I loved the photos from Cerro Coso's Potluck Luau:
After more than 2 years of limited staffing, working from home, and COVID restrictions, it was exciting to see the campus come alive again with the staffs full return to work. A Welcome Back Potluck Luau was held at the Ridgecrest campus on Thursday, July 28, 2022, to celebrate.
*****
In June 2022 I wrapped up a busy week of travel – Kern CCD everywhere – and shared some photos from Juneteenth celebrations at Porterville College:
"Today, people across the country celebrate Juneteenth in honor of African American freedom and achievement. We take time during this day to educate, advocate, and celebrate the holiday. It is a day to recognize the past and strive toward a more inclusive and equitable future."
The BC team also turned out for the NAACP 7th Annual Juneteenth Celebration on June 18th at Yokuts Park in Bakersfield:
*****
On May 21, After graduation – a week of gatherings, fellowship, and celebrations.
I shared pictures from my Chancellor's end of year potluck:
*****
My April 16 post – Happy Easter 2022 – featured Porterville College prepping for the return of in-person commencement with their first-ever Grad Fair:
Meanwhile, Bakersfield College was honored as a 2021 Tree Campus Higher Education Award Recipient.
The Arbor Day Foundation has recognized Bakersfield College with a 2021 Tree Campus Higher Education designation for its commitment to maintaining healthy trees on campus and engaging students and staff in this effort. BC is the second community college in California to earn the recognition.
Marcos Rodriguez, BC's executive director of facilities and operations, said the work that has gone into planting trees on campus will become a beacon in the community and across the state. "Bakersfield College has worked hard to beautify its campus in recent years and we appreciate this honor recognizing our efforts. Trees play a critical role in providing shade, visual appeal and a healthy environment on campus," said Rodriguez, "As we have embarked on major upgrades to our facilities and new construction thanks to Measure J, we have prioritized sustainable practices and ensured green space and trees are a valued asset on campus."
*****
March 26 was all about Sterling Silver 2022.
The annual benefit dinner recognizes exceptional support and service to the BC Foundation, and to the college, with proceeds from the evening going directly towards the Renegade scholarship program and supportive services. The sold out event took place Saturday March 19th, 2022 at the Panorama Campus.
Honorees included:
Corporate Philanthropist Award: Bank of America
Individual Philanthropist Award: The Contreras Family
BC Foundation Service Medal: Assemblymember Rudy Salas
Lifetime Achievement Award: Congressman William "Bill" Thomas
*****
In February, KernCCD stories of our people, Porterville College broke ground on their new Allied Health building – paid for with funds from Measures G & J.
Kim Behrens, Associate Dean of Health Careers for PC said, "I'm most excited about growing our current programs and adding new programs. When we brought Nursing to Porterville in 2003, we moved from the administrative building into the temporary classrooms with the hope of [eventually] being able to build a new building. That dream is finally coming true 20 years later."
*****
On January 22, KCCD Colleges welcoming students back – Spring 2022!
And Bakersfield College collaborated with the Shafter Library – A New Chapter for the Shafter Library & Learning Center.
The Shafter Library has turned over a new page with its official reopening under a unique collaboration between the City of Shafter and Bakersfield College, which was celebrated during a ribbon-cutting ceremony on Tuesday, Jan. 18.
In preparation for the re-opening, a significant investment has been made in new books, with a focus on children. At opening, nearly a quarter of the collection is brand new, with more new books on the way.
In addition to the existing schedule of classes, the Shafter Library & Learning Center will host regular community events. The spring schedule includes bilingual family activity nights, Shafter history lectures, science demonstrations and a community art night.
And BC's Industrial Automation unveiled its new star, Spot:
---
2021
In December, I looked at KCCD Trustees recognize Chancellor Emeritus Tom Burke.
At this week's KCCD Board of Trustees meeting, the Board officially recognized Tom Burke as Chancellor Emeritus. Before the meeting, we held a short reception with delightful refreshments prepared by Chef Fidel and crew from BC and invited a few dignitaries to share remarks. With the pandemic and the emergence of omicron, we restricted the in-person gathering and did a livestream of the event. Tom's colleagues and friends from across the state tuned in. Please note that masks were required for the indoor gathering and were only removed for photos.
Tom's remarks from the event:
*****
On November 20, I honored my dear friend Jack Hernandez – Remembering Jack – an afterlife on this Earth.
We all have an afterlife on this Earth. An afterlife of our stories remembered by those who have known us for many years…
My life lives on in them, especially in my daughter and my sister.
And they will tell stories that I do not know, will never know. He did this, he did that, can you believe it!
That is my afterlife here on Earth. That is our afterlife here on Earth.
Community Voices: Our Lives. Our Stories.
Jack Hernandez. March 25, 2021
Jack leaves behind a monumental legacy in our district and in this community. His infectious passion for literature and the humanities inspired generations of students, including Reggie Williams, who took Jack's Intro to Philosophy course when he was a student at Bakersfield College and now continues his legacy as the current director of the Levan Center.
From the November 18 Kern CCD Board of Trustees meeting:
*****
In October – KCCD – We #GetItDone – I shared the story of Porterville College Alum Jim Howell, who shared his 100th birthday with the Porterville Rotary.
The Rotary Club of Porterville celebrated its centennial birthday this past Saturday, October 23rd. The club and Howell practically share the same birthday. Born on October 24,1921 at the Mt. Whitney Hospital on Main Street in Porterville, Mr. Howell was born just hours after the Rotary Club of Porterville was chartered. His father, Everett Howell, was a charter member of the Club. Jim Howell has been with the club 64 years, served as the 1962-63 president, was the club's secretary-treasurer for more than 35 years and instrumental in the start of the Breakfast Rotary Club. A Diamond Paul Harris Fellow and a Homer Wood Fellow recipient, he often jokes the annual celebration party is really a birthday party for him.
At 3 years old, he made headlines when he took the family car for a spin. The headline in the Recorder read, "Three-year-old Barney Oldfield Shocks: Jimmy Howell Goes for Spin".
*****
In September – Living life all the way, feeling every beat. Let's get Loud. – Cerro Coso Community College's founding president, Dr. Richard Jones, returned to visit the Ridgecrest campus.
Founding President of Cerro Coso Community College, Dr. Richard Jones, returned to the Ridgecrest campus on Monday, September 13, 2021, to tour the facilities for the first time in almost 50 years.
In 1950, Bakersfield College began offering an A.A. degree in Ridgecrest in conjunction with an apprentice program on the Naval Ordnance Test Station (NOTS). In 1961 those college classes became the Desert Division of Bakersfield Junior College.
In December of 1969 the state approved a new college in the area and Dr. Richard Jones became the founding President of that new college, yet unnamed, that would become Cerro Coso Community College.
Founding President Dr. Richard Jones Tours Campus After 50 years
*****
In August 2021, KCCD gearing up for in-service week of activities. We also held several virtual Chancellor's Seminar Series, including one that allowed us to hear from students.
On Tuesday, we had a chance to get a student perspective. Student trustee Gian Gayatao hosted a panel with Edith Mata (BC), Yvette Carranza (PC) and Mia Guzman (CC). The student panel asked a series of questions to nursing faculty and COVID Response team leaders for the three campuses. Thank you to our students and to our panelists: Alisha Loken, Kim Behrens, Matthew Wanta, Nicky Damania, Roger Perez, and Kevin King.
Here's the Q&A from that session:
*****
On July 10, I wrapped up my first full week as Kern CCD Chancellor – KCCD Colleges faculty and staff are ready for you. Enroll today at BC, PC, CCC!.
On Thursday, KCCD held its monthly Board of Trustees meeting – my first as Chancellor. Starting this month, our meetings are back to being in-person, and it was wonderful to be able to meet face to face again. I'm grateful to everyone who was able to attend, and to everyone who made the technology possible so those unable to attend in person could stay informed as well.
*****
In my June 26, 2021, blog – The Luckiest and Happiest College President – I said goodbye to my position as Bakersfield College president with a look back at some of my favorite moments, including Measure J:
Of course, high on the list is when Measure J passed in November 2016, providing funding to upgrade all of KCCD's campuses and support our students for years to come. I am deeply grateful for the hours of hard work from countless volunteers throughout the district to help get that measure passed – and of course, for the voters who reaffirmed their commitment to our community colleges.
*****
On May 8 – Mothers building peace and goodwill – Happy Mother's Day – I shared this video from Mento Buru, who released a new take on the Renegade fight song:
"Mento Buru can trace our formation to meeting and performing as members of the Renegade Marching Knights," Matt Munoz, lead vocalist and BC alumni, said in a news release. "The 'Renegade Fight Song' was the first piece of music we were handed along with our uniform. I can still remember marching on the field for half-time shows and hyping up the crowd with the fight song after a touchdown like it was yesterday. The reaction and electricity of those crowds was unforgettable. We played that song in its traditional form countless times."
*****
On April 3, I shared about BC's second drive-through vaccination clinic in BC — Beat Covid. I also shared about First Lady Dr. Jill Biden coming to the Central Valley to speak at The Forty Acres.
This week, First Lady Dr. Jill Biden visited the Central Valley to meet with farmworkers at The Forty Acres. She was joined by Gov. Gavin Newsom in touring The Forty Acres, which was created by Cesar Chavez and became the headquarters for the United Farmworkers of America, and in thanking farmworkers for their hard work during the pandemic. Connie Perez-Andreeson from the BC Foundation Board introduced Dr. Jill Biden…. so cool!
Connie Perez-Andreesen introduced the First Lady at the event:
*****
On March 6 – BC – bold rhythms freely speak…so many riffs – I talked about the 2nd Annual Jean Fuller Women in Leadership Panel. The virtual event featured panelists Dr. Mary Barlow, Kern County Superintendent of Schools; Ms. Katie Russell, Superintendent, Panama Buena Vista Union School District; and Assemblywoman Emeritus Nicole Parra, Manager, California Government Relations, Marathon Petroleum Corp.
Check it out at
And I invited you to read Senator Emeritus Fuller's Community Voices piece in the Bakersfield Californian about the panel.
"However, women's leadership and empowerment is not a recent endeavor for BC, but deeply rooted in its history, as the college came to be what it is today under the leadership of a woman named Grace Van Dyke Bird. She first came to teach in 1917 and was appointed as college chief executive, the position now known as president, in 1921. She was among the first to suggest using the term "community college" instead of junior college, arguing that community was more descriptive of the institution's role."
*****
In February 27's post – BC – the week of vaccinations – I shared about the BC Firefighter program.
What many may not know is that the training through Bakersfield College continues even after a person is offered a job with the Fire Departments. The Recruit Academy is provided through Bakersfield College as well, where all previous education and training are cumulatively built upon and applied in real world scenarios. For many months recruits work long days at the training facility, and study into the night each night. Some of the topics covered are fire behavior, military discipline, auto extrication, and firefighter survival.
*****
On January 30 – Kern County — Thank you for supporting BC – I got to take a peek at some of the construction happening on campus, thanks to Measure J:
---
2020
In December 2020 – BC discusses the Future of Learning and more – the California Community Colleges Womens Caucus welcomed guest speakers Lande Ajose and Dee Dee Myers.
The first keynote speaker of the event was Dee Dee Myers, a political analyst who was the first woman in history to serve as the White House Press Secretary under Bill Clinton's first term in 1992. From a young age, Myers developed an appreciation for community colleges through her family's connection with College of the Canyons, and she encouraged women to recognize their value and accomplishments within their organizations.
The second keynote speaker was Lande Ajose, a senior policy advisor of higher education for the office of Governor Newsom. Ajose spoke about how important it is for people in under-represented spaces to use their voice and make sure their diverse perspective is heard and valued.
*****
In November 2020, At BC….The Sky Isn't The Limit, I wrote about the Future of Fuels webinar held as part of what is now known as the Valley Strong Energy Institute.
Our interdisciplinary partnership in energy is building traction throughout the community, and we hosted our second webinar today on the Future of Fuels. We had a great panel of experts in research, policy and implementation of biofuels moderated by Stu Witt, the former CEO of Mojave Air and Space Port. Adam Bratis from NREL shared some information about research around bioenergy, using organic plant material to create everything from fuel to carbon fiber. Kelly Murillo from SoCalGas gave an overview of all the different technology used in processing clean biogas. Michael Carr is a manager of West Coast policy for Shell Oil company, and he shared some ongoing trends in carbon management.
*****
In October – Beautiful Bakersfield. Beautiful BC – Bakersfield College welcomed California Community Colleges Chancellor Eloy Oakely, senior administrators from the California Community Colleges Chancellor's Office, and members of the Board of Governors for a virtual visit to BC to meet with students, faculty, staff, and members of the community.
*****
In September – BC – two weeks into Fall 2020 – BC's Early College program welcomed a new class of Cougar Renegades from McFarland High School.
In partnership with the McFarland High School counseling team, the BC Early College staff held 13 virtual workshops for the upper classmen and 9 workshops for incoming freshman students. After these workshops, BC welcomed over 200 new Cougar Renegade students who will be on the path to complete 60 college units by the time they graduate from high school.
*****
In August, Bakersfield College – A Peace Garden of Learning, Reflection & Renewal, I shared a photo of the original 1922 Renegade Football Team!
Originally with just a football team founded in 1922, the department has grown to its current total of 20 men's and women's sports over the last century. In the process our Renegade athletic teams have captured a total of 184 team conference championships, 15 state championships and 10 national championships. In addition they have won countless individual conference and state championships in a variety of sports.
*****
In July – Let's keep our community healthy! Wear masks. Do physical distancing. Regularly wash our hands. – I shared another Athletics story – Jim Ryun Awarded Medal Of Freedom.
Jim Ryun, who set a world record in the mile (as a high schooler) at 3:51.1 in our very own Memorial Stadium on June on 23, 1967 (53 years ago!), was awarded the nation's highest civilian honor on Friday when he was honored with the Presidential Medal of Freedom at the White House by President Trump.
*****
Throughout June, I shared videos from Bakersfield College's #LightACandle Juneteenth Conversation.
In my June 27 post – The universe is simpler than it appears – I shared a video that Congressman James Clyburn sent for the event.
*****
My May 16, 2020, blog – Closing week — Spring 2020 pandemic semester – looked at the end of the Spring 2020 semester.
Bakersfield College closed out what will go down in the history books as an unusual semester… Spring 2020-the semester of the pandemic. There was much to celebrate this last week… the resilience of our students, the caring nature of our faculty and staff, and much much more. It seemed as it the skies were celebrating the Renegades when the jets flew over the Memorial Stadium this week. Check out the photos capture by 23ABC
*****
In April 2020 – Stayin' in and staying connected – I remembered longtime BC team doctor Bob Sheldon, who passed away at the age of 91.
One of Bakersfield Colleges most faithful fans, Dr. Robert Sheldon, has passed away at the age of 91. Bob's association with BC goes back to 1936 when he was an All-Conference tackle for Bakersfield Junior College. He was in medical school at Stanford in 1941 when Pearl Harbor was attacked. He promptly joined the US Navy and was assigned to Oak Knolls Hospital in San Francisco. In 1946 he was released and returned to Bakersfield where he offered to help his old friend Dr. Romain Clerou, who was the team physician for BJC. In the next year, however, Bob moved on for further medical training at Harvard, Sloan-Kettering Hospital, and St.Louis, before returning to Bakersfield in 1953, only to soon be called back into service for three more years, this time in Guam.
In 1957 finally back in Bakersfield to establish his medical practice, Bob Sheldon volunteered to assist Dr. Clerou as team doctor for the Renegades, now playing in the beautiful Memorial Stadium on the new campus. Those two doctors, Sheldon and Clerou, attended all home games and many away games, provided medical exams and medical help for all BC athletes. In 1979 Dr. Bill Baker became the official team doctor, but Dr. Sheldon and Dr. Clerou remained and continued to help him. In 2012, Dr. Clerou at age ninety-eight and Dr. Sheldon at ninety-three were still sitting at field level with Dr. Baker at Renegade home football games.
*****
Who could forget on March 22, 2020 – #BCGoesOnline?
Novel coronavirus, COVID-19, social distancing, shelter in place, stay at home, Dr. Anthony Fauci, Dr. Sanjay Gupta,….. all names, words and phrases that have become part of our day-to-day conversations.
*****
On February 15 – BC — the heart of the community – I shared some photos from the Mayors Ball:
*****
On January 19 – #LetsDoThis2020 – I wrote about the Spring 2020 Opening Day.
---
2019
In my December 15, 2022, blog – Thank you for voting Yes on J! – I wrote about the grand opening of the Vernon Valenzuela Veterans Resource Center.
*****
On November 24 – BC: Advancing Education in our community and state – I wrote about the Intersegmental Pathways Symposium.
The symposium content was anchored in a 2015 Public Policy Institute of California (PPIC) paper that outlines 4 policy strategies to meet this goal. Working with Craig Hayward & Lesley Bonds, I outlined an expanded set of strategies at this symposium.
#1. For rural communities and other areas in California where educational attainment levels are low, incorporate Early College Pathways to Baccalaureate Completion using the Program Pathways Mapper by the 9th grade. #2. Promote innovative approaches to scale up baccalaureate attainment, e.g., Brandman University's competency-based education, Arizona State University's online programs. #3. Among students that are new to the CSU, increase the proportion of California community college transfer students, with a goal of reaching 75%. #4. Strengthen transfer pathways from community colleges to UCs as well as to independent colleges and universities. #5. Expand the community college Bachelor degree program.
I was joined by Lande Ajose, Eloy Oakley, Lupita Alcala, Rudy Salas, and Mary Barlow
*****
On October 12 – Fall is in the air… – I shared about Javier Llamas' presentation "Mexican Pioneers And The Use Of Celebrations From 1880's To The 1950's"
Llamas examined historic events and the significance of Mexican communities and their celebrations. During the presentation, Llamas proposed that the celebrations can be categorized as nostalgic, economic, political, historical, or social.
*****
On September 28 – BC: Creating Partnerships to Better Kern – I talked about unveiling the Launchpad Program.
The Launchpad is Bakersfield College's new entrepreneurship center developed to provide a system of connected resources and support for local entrepreneurs to help increase the number of new businesses in our community and to assist small businesses to grow.
*****
In August – Renegades gearing up for the new academic year – I wrote about the HVAC Lab in Delano being ready for students that fall.
From the groundbreaking, October 2018
You can read when I announced the unveiling of our HVAC Tech Program in my October 21, 2018 blog. The Bakersfield College Delano Campus unveiled its new HVAC Tech program and broke ground for the new facility on October 15, 2018 with a projected completion by Summer 2019. This program is a part of Bakersfield College's Rural Initiatives, which target BC's surrounding communities to equip more residents with workforce skills through college education. The funding for this program comes from the monies secured by Assemblyman Rudy Salas in the 2018-2019 state budget. And thank you Trustee Romeo Agbalog for your passion and support of North Kern communities.
*****
July 20 I wrote about Recognition & Gratitude — One Proud Renegade Prez.
On Monday morning we started with a crowd of approximately 200 packing the Wylie and May Louise Jones Gallery on the Panorama Campus for a press event where Assembly Member Rudy Salas presented Bakersfield College with a check for $1 million from the state legislature for the second consecutive year. The 2018 funding kicked off the HVAC program at the Delano Campus, in addition to supporting rural educational efforts. This year's funding will allow us to expand our baccalaureate program in Industrial Automation in Delano and our Early College programs in Wasco and McFarland. It will also allow for the creation and expansion of health career pathways in North Kern.
*****
In June – Summer has arrived! – BC's Dual Enrollment Wins Big at Beautiful Bakersfield Awards.
On Saturday, June 1, Jamie Swetalla from Aera announced that the Bakersfield College Dual Enrollment team were winners of the Beautiful Bakersfield award in the Education category that recognizes efforts that promote or benefit education at all levels. Hosted by the Greater Bakersfield Chamber of Commerce, the annual awards gala was attended by more than 700 people at the Rabobank Theater and Convention Center. The Dual Enrollment program was selected from among nine finalists. The Bakersfield College Performing Arts Department was also one of ten finalists in the Arts and Culture category.
*****
On May 25, we were Celebrating our classified staff. We are BC!
Classified employees at Bakersfield College are the backbone of moving the work that we do. These individuals work directly with BC's students, faculty, volunteers, business partners and community members. I'm continually struck by the dedication, positive energy, student-centered focus, and the hearts of service brought to campus every day by our classified staff.
*****
In April – Renegades enjoying spring time activities – BC went international as BC Hosts Faculty from Engineering University of Nicaragua.
The Bakersfield College Family embraced colleagues from Central America this month when it hosted three faculty members from the National Engineering University of Nicaragua (Uni). The three professors included Donal Perez Palma from Uni's Department of Energy, Emmanuel Jose Canda Toledo from the Department of Applied Theoretical Mechanics, and Pablo David Trejos Aguilar from the Department of Engineering in Economics and Business. The three came at the invitation of Kern Community College District Vice Chancellor of Educational Services John Means. The goal of this hands-across-the-miles outreach is to develop global and academic exchange opportunities for both faculty and students and to build understanding between the institutions.
*****
On March 23 – Spring is here bringing new life and beauty – I shared a video of the BC Choir performing at St.Francis.
*****
In February – Continuing Partnerships in the Community – BC was well-represented at the Kern County Hispanic Chamber of Commerce Gala.
Last Saturday night Bakersfield College attended the annual KCHCC Gala at the Marriott hotel. BC is a proud supporter of the Kern County Hispanic Chamber of Commerce (KCHCC), with five Renegades as boardmembers: Olivia Garcia, Lisa Kent, Tony Cordova, Norma Rojas-Mora, and Corny Rodriguez. I'd like to thank Ricky Marsel for sharing some of his photos. Great work, KCHCC!
*****
In my January 19, 2019 blog – Welcome to Spring '19 – I announced that jean Fuller would lead BC's Early College program.
Having served in public office from 2006-2018, Jean Fuller brings over 30 years of experience in education to Bakersfield College. Her desire to continue working in education at BC is a direct result of her commitment to working with young people and encouraging them to have the confidence and support to achieve their dreams.
---
2018
In December – 'Tis the season to be a Renegade! – we celebrated Sue Vaughn as she began her retirement.
Last Thursday, we celebrated the career of a woman who has dedicated her life to education. Sue Vaughn, who has served at BC for more than two decades, said goodbye to fellow staff and faculty in a ceremony held at PAC 101.
Colleagues such as Manny Mourtzanos, Zav Dadabhoy, Nicky Damania, Steve Watkin, and Kalina Hill (in a UCLA football shirt) shared heartwarming stories about their experiences with Sue and what an inspirational woman she is to all of us. It was emotional to witness Sue reflect on her time at BC; she has put so much of herself into the education of others and we all owe her a debt of gratitude.
Sue has invested more than 32 years in higher education. She faithfully and diligently served BC for 22 of those years (20 as the Director of Enrollment Services, and 2 as the Director of the Child Development Center).
*****
In November – BC in community, having fun, and caring for each other – I wrote about the BC in the Vineyards Project — Very proud of this work by the Rural Initiatives Team.
As I wrote in last week's blog, BC was out in the vineyards of Kern County this week. In partnership with the Central Valley Farm workers Foundation, Bakersfield College Rural Initiatives team and outreach advisors visited 20 farmworker crews at local vineyards throughout North and South Kern to promote higher education. The team was able to reach over 1200 farmworkers, planting a seed of hope for higher education. Over 150 workers have requested follow-up services to begin their matriculation.
I would like to thank all those who assisted in this project and Adult Education Managers, Jaime Lopez and Endee Grijalva for coordinating the efforts to make this possible. Although, this outreach effort is the first of its kind, it will not be the last as the Rural Initiatives Team continues to change lives across Kern County!
*****
My October 27 blog – Talent, Dedication and Passion at the Home of the Renegades – included information from the 6th Annual national Bioenergy Day.
BC hosted the 6th Annual National Bioenergy Day earlier this week where local renewable energy producers Mt. Poso Cogeneration, Macpherson Energy Corporation and DTE Energy Services were recognized by Mayor Karen Goh, Assemblyman Salas's office, Congressman McCarthy's office, Assemblyman Fong's office, and Supervisor Mick Gleason's office. Our Career and Technical Education department co-hosted this event, and works closely with our industry partners. Because of these connections, our students have a better chance of landing jobs, internships or work experience.
*****
On September 15 – Welcoming New Faculty, Fans, Friends to Renegade Football Home Games & More! – I shared about the 19th Annual Kern County College Night.
BC was at the 19th Annual Kern County College Night last monday. Over 125 colleges were present, and of course BC was there to represent! This event is great for giving prospective students not only the chance to get to see what the colleges have to offer, but also they're able to learn how to pay for college. Thank you to the Outreach team and all who attended to represent that #WeAreBC!!
*****
In August – Thank you Firefighters & First Responders! – we said hello to Bessie.
Do you have children…nieces….. Well, Bessie's story started with my daughter letting me know that she wanted a dog. You see she has a very busy life and lives in LA. I kept talking her out of it….and then when it appeared that she she was getting serious, I shifted to counseling her to get an older dog from the shelter making arguments like "you wont be able to take care of her as a puppy…the attention …the chewing … etc etc…" So then she tells me that she has a brilliant solution. Have the puppy be raised for three months here in Bakersfield and then she will take her! So now there is Bessie and Neo at home, and life as I know it has changed.
*****
My July 21 blog – Summertime is Full of Activities at BC – included a visit from Senator Andy Vidak.
During his visit, Senator Vidak wanted to see the campus, but most of all the students. His first stop was to visit BC's Golden Empire Drum and Bugle Corps who were busy practicing on the field. Faculty Director, Tim Heasley was onsite to share a little background on the extreme dedication and commitment made by these young men and women. Each day this week they have been out on the field rehearsing and practicing their routines in preparation for the competition on Friday night.
*****
In June – Precious Lives and Developing Dreams at Bakersfield College – The Child Development Center unveiled their brand new outdoor classroom playground.
The playground was funded by the Head Start program of the Community Action Partnership of Kern (CAPK) for our two-year Early Head Start classrooms. The new facility will function as an outdoor classroom that allows the toddlers to directly engage with their learning. Six of our teachers and associate teachers have completed the first level of outdoor classroom training, with a second level of outdoor classroom workshops planned for the next few weeks.
*****
On May 12 – A Commencement of Firsts – I celebrated BC's "record breaking" commencement, which featured BC's largest graduating class.
Last night there were many firsts: we celebrated the first Dual Enrollment class from the Wonderful Academy, graduating with their Associates Degrees before they even complete high school; and we celebrated the first graduating cohort of the Kern Promise, a select group of students who piloted a Guided Pathways model of shared responsibility and support to complete their degree within 2 years.
*****
My April 21 blog, We are Bakersfield!, featured the Bakersfield Women's Business Conference.
The Bakersfield Women's Business Conference is a major supporter of the R.O.S.E. (Realizing Options for Student Excellence) mentor program. The program matches high school students with mentors and has several seminars, to aid student mentees in recognizing their value and self-worth. Topics for the seminars focus on careers, communication, balancing life, money, safety and building self-confidence. The mentees receive a scholarship to cover the cost of attending the BWBC. Conference attendees were impressed by one of the mentees that spoke about the benefits of being in the program and to encourage all the women present to become a mentor. This is a wonderful program and I encourage all of you to consider becoming a mentor.
*****
March 17 – BC is Booming with Activities! – celebrated Neo's first birthday.
*****
February – Bright Futures start with Good Teachers – I wrote about the YES! Youth Empowering Success Conference.
Yesterday, we held the 3rd annual YES! Youth Empowering Success Conference. The all-day event began with a welcome and introduction from Judge Raymonda Marquez of the Kern County Superior Court. She spoke of how there are people in our lives who believe in us, even when we sometimes doubt ourselves.
*****
January 28 – Kern County Unites to Support Women – I shared about author Gabril Thompson's talk at the Levan Center.
Thompson's book "America's Social Arsonist" tells the story of how Fred Ross' experience working at the Arvin/Weedpatch farm south of Bakersfield that inspired John Steinbeck's "The Grapes of Wrath" led to a career organizing voter registration drives in Latino-American neighborhoods to help those communities fight for equal representation in local and state government. Through Ross' work as the founder of the Community Service Organization, he trained Cesar Chavez and Dolores Huerta in his techniques that emphasized face-to-face contact and empowering marginalized groups over fundraising and awareness.
---
2017
My December 2 blog – Another Inspiring and Packed Week at BC – I shared about local author Gerald Haslam's talk at Bakersfield College.
In Haslam's time, the literary, historical and cultural contributions of the Central Valley were not even being taught in Kern County schools, but through his work and the writing of Joan Didion, Maxine Hong Kingston and others, as well as the elusively complex songwriting of Merle Haggard and other members of the Bakersfield sound, that history started getting recognized.
*****
In November – Leadership, Innovation, Music, Community – We are BC! – a team from BC attended the HACU's (Hispanic Association of Colleges and Universities) 31st Annual Conference.
This important conference allowed Connie (Gonzalez) and BC representatives to create important partnerships and strengthen collaboration with the USDA Hispanic-Serving Institutions National Program, UC Davis, USDA/NRCS, and USDA Forest Service. Connie was able to secure a whole day dedicated to BC transfer students with Dr. Blas Guerrero, Director of the Chicano/Latino Recruitment Center, in collaboration with UC Davis's MESA program. BC MESA students will be able to look at engineering labs and tour the campus. Connie is working with Manuel Rosas to include EOP&S students as well. Thank you Connie for your work and forging relationships to further our MESA students' educational opportunities.
*****
On October 14, we celebrated Our 60th Homecoming at 1801 Panorama.
On campus, we've been celebrating Homecoming all week. When I arrived on campus on Monday morning, I was greeted with Renegade decorations and school spirit everywhere. We kicked off with an office decoration contest hosted by The Office of Student Life. This year there was a tie between two areas: the shared area of the Marketing & Public Relations and Institutional Effectiveness departments, and the Extended Study Area. Congratulations!!
*****
September 30, 2017 capped off Another Incredible Week at BC.
California Community Colleges Board of Governors Vice President Tom Epstein visited Bakersfield College.
Epstein was a big hit among the faculty, staff and students with his down to earth, humble approach in interacting with campus. He is incredibly sharp with a keen eye to picking out "policy fixes" and "systems fixes". And I so enjoyed seeing his interaction with Senator Jean Fuller and Trustee Bill Thomas. As it turns out Jean Fuller was on the committee that appointed Tom Epstein to his seat on the BOG. And Tom met Bill in Washington DC when Bill was the Chairman of the Ways and Means committee. There was genuine warmth and collegiality in these interactions.
*****
On August 20, I was Saying Hello to Fall 2017. I wrote about our Fall 2017 Opening Day festivities.
*****
July 22 we looked at Scholars, Artists, Sports and Summer Camps.
Bakersfield College has a wonderful partnership with Delano Joint Union High School District (DJUHSD). Thank you Superintendent Terri Nuckols for all that you do and it is such a pleasure working with you to offer joint programming for our students in the Delano community.
*****
On June 25 – The Summer Heat is Here! Stay Cool! – I shared photos from the Chancellor's Cabinet retreat.
*****
On May 6, 2017, we had One Week Left in Spring 2017!!
I wrote about Pre-Law Day at BC, which featured several panels for our guests – both hgih school and college students.
The panel topics dealt with the 150th anniversary of the 14th amendment to the U.S. Constitution as well as the challenges of the Law School path. At the conclusion of the morning presentation, discussion sessions took place and the audience received lunch in the Performance Arts Center courtyard. They then had the opportunity to participate in the Internship Fair held by various law schools at BC. As the BC Pre-Law Program continues to grow, future Law Day Conferences will also grow in order to accommodate the increased interest in the legal field. I can't wait for next year's conference!
*****
In April, we were Strengthening Kern County One Degree at a Time.
One of the many exciting things I wrote about in the blog was the Kern Promise.
By working together with Kern High School District and CSUB, the Kern Promise is a commitment in action at Bakersfield College to help students complete their Associate Degree for Transfer within two instructional years through structured support, priority access to courses, and financial assistance to those who qualify. The Kern Promise focuses on a shared responsibility model where students will work with Completion Coaches and follow a clear path to success. In return, each promise student is required to maintain good academic standing and commit to their studies.
*****
March 26 – The Renegade Experience is Incredible.
Good morning Bakersfield…. let's start this morning with two short videos of the phenomenal concert. Freedom, on friday night by Dr. Jen Garrett and the BC Choir. The concert featured a multipart, multimedia commissioned piece by Dr. Ron Kean chronicling the inspirational story of courage of Harriet Tubman. I will cover this evening in my April 1st blog. But until then, enjoy the 1:34-minute excerpt of Ken Burdick and 2:14-minute excerpt of Caley Mayhall with the BC Choir.
*****
On February 18 – We are BC! & We are Bakersfield! – I highlighted the Delano Alliance.
Pictured here is Richard McCrow, Director of the Delano Campus; Dean Cindy Collier; Nan Gomez-Heitzeberg, Vice President Academic Affairs; Alexa Rivera, BC Student; Vicente Lopez, BC Student; Romeo Agbalog, KCCD Board Member; and Ray Purcell, Student Health and Wellness Center Director
After the event, Alexa Rivera, who visited the White House sent an email to Nan Gomez-Heitzeberg saying,
Vice President Gomez-Heitzeberg, Thank you for the kind words. I will make sure to always remember my home, Delano. Because of Bakersfield College, both in Delano and Bakersfield, I have been able to partake in several experiences that have helped me become a better student and most importantly young adult. I will always be grateful for the opportunities Bakersfield College has offered to me. Thank you for the email, and thank you for being an inspirational leader. Because of your hard work and presence at Bakersfield College, students, especially females aspiring to be leaders just like you, have the opportunity to learn from you and admire your leadership.
*****
January 14 had us Looking Forward to Spring 2017.
It was wonderful to have the President of the KCCD Board of Trustees, Kay Meek join us for Opening Day. Kay was welcomed to the podium with a standing ovation and she thanked the college on behalf of the Board especially for the phenomenal work on the passage of Measure J. We also had Congressman and Trustee Bill Thomas join us and briefly address the group.
It was also wonderful having our Chancellor Tom Burke join us with his new beard and all. He was warmly welcomed by the Renegades. Here are pictures of 3 of the many speakers at Opening Day:
---
2016
On December 10, I posted about The little things we do!
That week, BC hosted Vision for the Valley.
Over 300 local professionals were greeted by Nancy Ortiz, President & CEO of the Bakersfield Chamber of Commerce, followed by Michelle Chantry, CEO of The Bakersfield Californian, and myself to kick off the multipart event.
*****
On November 12, it was Thank you Kern County! as Measure J passed.
With a vote of 96,589 to 58,155, Kern County supported Measure J with 62.42% of the vote. Measure J also received 59.99% of the vote in Tulare County, and 63.6% of the vote in San Bernardino County. After months of hard work, I am so grateful to our voters for supporting our community colleges! And I am grateful to the many volunteers who turned out over the past few months to get out the vote and spread the word about the great things that this bond will do for Bakersfield College and all of the college in the Kern Community College District.
*****
October 29 was Moments that take our breath away!
Wednesday afternoon was one of those moments. I was in my weekly meeting, in my office, with the Academic Senate President, Steve Holmes and Executive Vice President of Instruction, Nan Gomez-Heitzeberg when Tracy Hall opened the door and said "you must see this." Through the open door, in the quad enclosure I saw our choir students gathered and two of them with drums, seated on the ground. Dr. Jen Garrett, their music director was having them rehearse by performing in different parts of the campus. Their song had a haunting melody with strong, forceful yet sad rhythmic drumming sounds. The voices of the students were pure and sweet, and floated through the afternoon air of the college. Students and staff gathered around, captivated by the one song that they performed. Don't you want to be on this campus filled with moments that take your breath away?
*****
In September – On remembrance, and making memories – I wrote about Running of the Renegades and BC Football.
The evening started off with the annual Running of the Renegades event that welcomes the Football team back to the Stadium for their first home game. This event offers the BC Community the chance to run across Memorial Stadium behind the Renegade Mascots and alongside the BC Cheerleaders before the BC Renegade Football players take the field. This year, 30 students, staff, and faculty members dashed onto the field at 5:55pm sporting their Red and White Spirit. Starting with Renegade pride is always a fantastic way to kick-off a great game and a great week!
*****
August 6 – Extraordinary stories: Our students, community, and faculty.
One of the stories was a tribute to Jack Brigham, who passed away in July.
A well-respected group of speakers took turns on the stage as they shared memories, pronouncing the love Jack had for BC, his students, and accomplishing the greatest common good. Brigham's friend, Milt Younger, led the honors, praising his activism, philanthropy and passion for politics. Mayor Harvey Hall, Abdallah Ben Hamallah, Bob Severs, John Hefner, Cory Carter, Jorge Guillen, Dolores Huerta, Judy Sims-Barlow, Javier Valdez, Alex Dominguez, and Randal Beeman followed by describing how Brigham had changed their lives and motivated them to be better people. To ensure that Brigham's legacy of inspiring young people in Kern County continues, a scholarship will be established in his name.
*****
July 23 we were Providing pathways to the future and building a better BC.
The college faculty and staff have been focused on student success for over a century, and in the last three years have particularly focused on connecting with students when they are still in high school and gearing them up for college and the workforce. Approximately 80% of BC's students are first in their families to go to college, so the faculty and staff take the time to be their guides and their coaches as these first-time students learn to navigate college and learn how to be learners and gain the skills to enter the workforce.
*****
June 11 had me Celebrating our faculty, staff, students and the community.
One of the people we celebrated was the 9th president of Bakersfield College, Greg Chamberlain, who retired from his faculty position at the end of the Spring 2016 semester.
BC went through some of its most difficult times from 2008 to 2012 and Greg's steady hand not just kept the college on course, but creatively growing despite the challenges. I see his touch across the college and I am beyond grateful. He engaged with budget cuts by creating the budget committee to bring the best minds across campus to work side-by-side with him to find solutions. He brought in external grant funding, like the C6 grant, to support innovation in instruction, particularly in CTE. Greg understood students' need for a place to practice their foundational skills of writing and set up the Writing center. And then there are the solar panels and BC's focus on sustainability. So you can see my friends, that Greg's life's work is deep in the lifeblood of the college, and can be felt all across the campus—from direct services to students, to facilities upgrades, as well as finances.
*****
On May 14, we were Closing out the 2015-2016 academic year.
I also wrote about Garden Pathways, and four women who were honored as "Women with a heart for Bakersfield" – Cynthia Icardo, Norma Rojas-Mora, Tracy Walker, Danielle Wade.
These four women are truly remarkable in volunteering their time out of their busy lives to support the community. All of them were eloquent in their remarks and very inspirational. Norma Rojas-Mora spoke about "opportunity" and that "often those opportunities are the difference between living life in the shadows or living one filled with recognition." It struck me that one of the greatest gifts we can give one another is the gift of opportunity.
*****
April 30 – Sprinting toward semester's end.
That week, BC welcomed two members of the Board of Governors – Arnoldo Avalos and Connie Conway.
It was a treat having two members of the Board of Governors, Arnoldo Avalos and Connie Conway, visit BC on Tuesday, April 26th. Rather than doing a special series of presentations, we decided to fit their itinerary into what was happening at BC. The morning started with them attending an annual event where we connect with leaders from high school and share with them the advances made on the goals set the previous year. After that, they toured the campus and connected with faculty and students in the sciences, music, CTE etc. Thank you Joe Saldivar, Jen Garrett, Liz Rozell, Manny Gonzales, Clayton Fowler, Nicky Damania and others who helped. And the fabulous Jennifer Marden who pulled all this together.
*****
March 19 was A Whirlwind Week at Bakersfield College.
I was deeply honored to be recognized by Rudy Salas, who named me "Woman of the Year" for the 32nd Assembly District.
Rudy Salas quietly moves mountains for this community, in so many ways. He has been a champion for issues related to disabilities. On Wednesday, he testified at the Assembly Subcommittee on Health and Human Services to request needed state funding for Independent Living Centers.
Earlier this year, Salas played an integral role in securing increased statewide funding for the Department of Developmental Services Regional Centers, and the programs and services they provide such as the Bakersfield ARC (BARC). Those efforts ultimately secured $307 million for developmental disability services. In addition to the ILC funding budget request, Salas has introduced AB 2565, which will amend an outdated code section of the law to allow each of the state's ILCs to receive state base funding.
*****
February 5 I wrote about A Promise…..College Futures Foundation, Kern Education Leaders Talk Student Success, Community Partnership
BC hosted a KCF (Kern Community Foundation) event on campus to introduce College Futures Foundation to the Key Kern County educational partners.
The pathways work with AACC is very much aligned with what is happening in Kern County under the leadership of Kristen Barnes, CEO of the Kern Community Foundation (KCF). With the support of the KCF, BC faculty and staff have been working with other educational leaders in Kern County on the Kern County Access Initiative, to explore issues of college access countywide. Together, we've had ongoing meetings with representatives from virtually every level of education in the county, all aimed at finding opportunities to boost degree completion. Smaller work groups have continued looking for even more avenues for alignment and collaboration as well as ways to bridge cultural disconnects and engage businesses in the educational process.
*****
On January 30, I wrote about Engaging in Our Community: MLK Breakfast.
In Bakersfield there are several events that occur during Martin Luther King Day. More than 350 people poured into Bakersfield's MLK Community Center Jan. 18th to honor the life and legacy of Dr. King, and further his message. Among those assembled, proud BC Renegades gathered to celebrate with local community leaders, and to offer support in striving for equity and justice.
The focus of the 10th annual Rev. Dr. Martin Luther King, Jr. Community Award Breakfast was "enriching our millennium with future foot soldiers." And that desire to stand shoulder to shoulder and further a noble cause was in full display during this wonderful event.
---
2015
In my December 19 blog, BC Wrestling: 5 Conference Champs Lead Squad to Regionals, I wrote about meeting with Senator Jean Fuller, and attending the Kern Tax annual dinner.
Then there was Kern Tax annual dinner. Michael Turnipseed, CEO, does great work monitoring our tax dollars while connecting the different agencies in Kern County to advance workforce and economic development. You may want to check out my blog on August 4th on a great piece of work Turnipseed facilitated.
*****
November 15 featured STEM: The Next Generation.
This week, 20 Foothill High School students trekked over to BC for a crash course in crafting a STEM career. They saw the campus and even got some up-close & personal time with some of BC's finest instructors, like chemistry professor and 20-year BC institution Kenward Vaughan.
*****
On October 31, I wrote about BC Faculty the very best. Reggie Williams in action. I had the privilege to attend his Levan Center talk on race, wealth, and inheritance.
But I know our community wouldn't turn out for these events if they didn't feel confident they'd be hearing from unquestionable experts. And you'll find no one anywhere with a deeper reservoir of knowledge coupled with a skill for grounding heavily academic topics than Reggie.
*****
On September 11, I wrote about one of BC's sister colleges in Porterville College: Pirates and Renegades Together.
Among its many virtues, perhaps the aspect of PC that I've always treasured the most is the sense of intellectual curiosity exhibited by PC's faculty and staff. Nowhere is that thirst for new and exciting pursuits more in evidence than in Porterville's exceptional CHAP program.
…
The ties between BC and PC, not to mention the deep tradition of collaboration between the two campuses, are strong and long-standing. The connection has stood the test of time for nearly 100 years at both Porterville and Bakersfield and will undoubtedly continue long after present staff, students and faculty at both institutions are gone. It's so incredibly heartening to experience the richness of our sister campus and I'm confident that the BC-PC partnership will continue to strengthen and flourish for the next generations to come.
*****
August 28 featured a post on New Student Convocation 2015: Welcome to the Home of the Renegades.
After a century of operation, Bakersfield College has plenty of fabulous long-standing traditions. But despite the pride of honoring BC's storied past, it can often be just as rewarding to begin new traditions of own.
With that in mind, we held the inaugural Bakersfield College New Student Convocation last Thursday evening (August 20) in the Outdoor Theater.
*****
July 22 was about BC Choir Reunion Celebrates Historic Victory's 50th Anniversary.
Earlier this month, nearly three-dozen surviving members of the 1965 Bakersfield College choir reconvened to remember the good old days and savor the memories of the day they helped put BC on the global map, scoring an underdog win for the ages with a first place showing at the prestigious Llangollen International Musical Eisteddfod in North Wales.
*****
June 27, 2015 – Delano Graduation Celebration. Just wonderful!
This May marked the 40th year that students were graduating from Bakersfield College's Delano campus — and just as with the larger BC ceremony, it was with the same level of joy and pride that our executive team was on hand to watch 95 Delano students revel in their achievement at a pre-commencement celebration on this very special campus.
*****
May 26 – "Thank You, Mr. Falker" — and Thank You, Mrs. Mitchell's Class!.
The next thing I know is that it is May 20th late afternoon and all I knew was that I was reading to a third grade gate class. What does that mean….. what do I read…. panic sets in. This is much more complex than presenting to a Chamber Breakfast event or even teaching calculus (i was a math faculty many years ago). And then I remembered meeting Krista Bolton, wife of BC Assistant Football Coach Reggie Bolton, at a recent football event. I also remembered that Krista taught third grade. YES! There is a God watching over me and taking care of me.
I was honored to read a book to Mrs. Mitchell's 3rd grade class.
*****
In my April 24 blog, we were Reintroducing the new (sort of) Simonsen Performing Arts Center.
I'm so thrilled that Bakersfield College is now finally ready to unveil its fully-renovated, massively-improved Edward Simonsen Peforming Arts Center (SPArC) to our community.
It was with tremendous pride and a shared sense of accomplishment that we helped Mayor Hall cut the ribbon Tuesday on this revitalized building, which now solidifies its standing as one of the premier arts venues in the region.
*****
In March, we had BC students at Fresno State.
This campus outing was a HUGE success which allowed 35 of our students to participate in a campus tour. In addition, participants were able to develop long-lasting friendships with one another, and preview the best of what Fresno State had to offer. As confirmed by student feedback, our students were genuinely enthusiastic about having the opportunity to visit Fresno State. The event was as eye opening experience which impressed upon our students that education and transfer are POSSIBLE.
*****
In my February 1 blog, I shared my Renegade Roundup: January 1, 2015.
Several of us have been working this last week on an application to the Department of Finance (DOF) Innovation Award. It is a somewhat unusual application in that we had to describe what we've accomplished, instead of the more usual description of what we hope or plan to do. As this group worked to articulate what we've done, a picture also emerged for me of how connected we have become as a campus community. I believe that it is this connectedness that has made it possible to do what we've done.
---
2014
In my December 17 blog, BC's Jazz Ensemble is just magnificent!, I highlighted the amazing performing group.
Here is a clip of them performing "A-hunk-a-hunk" by Thad Jones
*****
On November 19, I wrote about The Kern Ag Summit: Celebrating Agriculture in the first annual summit.
Bakersfield was built on agriculture, and it is important that we always remember how much of the area's economy is reliant on the fertile fields surrounding our city. Last month, Bakersfield College led the effort (thank you Lindsey Ono, Chris McCraw, Leah Carter, and Mary Jo Pasek) to bring additional focus to agriculture, and to have a broad conversation on the issues and opportunities facing the southern San Joaquin Valley. This was part of the Learn@BC! series for 2014-2015
*****
October 19, I wrote about the Legislative Forum at BC. Sep 25, 2014.
Congressman David Valadao, Assemblyman Rudy Salas, and Senators Jean Fuller and Andy Vidak spoke to a jam-packed Fireside Room (we planned for 75 attendees and over 100 showed up. yes!) about numerous issues and their personal involvement in addressing them. Water, of course, was a major subject of discussion. However, they also talked about education, immigration, energy billing, loan programs, and more.
*****
September 14 – A Circle of Friends: Milt and Betty Younger and Jim Young
On Thursday May 1st, 2014, Bakersfield College had the honor of hosting a very special event– a Betty younger sculpture dedication honoring Dr. Jim Young. "Circle of Friends" is an outdoor sculpture located atop a small hill Northeast of the GET Bus terminal on Panorama Drive. The sculpture, which consists of four red upright figures standing together in a circle, was created by Betty Younger to honor her friend JimYoung, who served as Kern Community College District's chancellor from 1978 to 1999.
*****
July's Delano Relay for Life Raises $2500 for Cancer Research! featured some fun photos: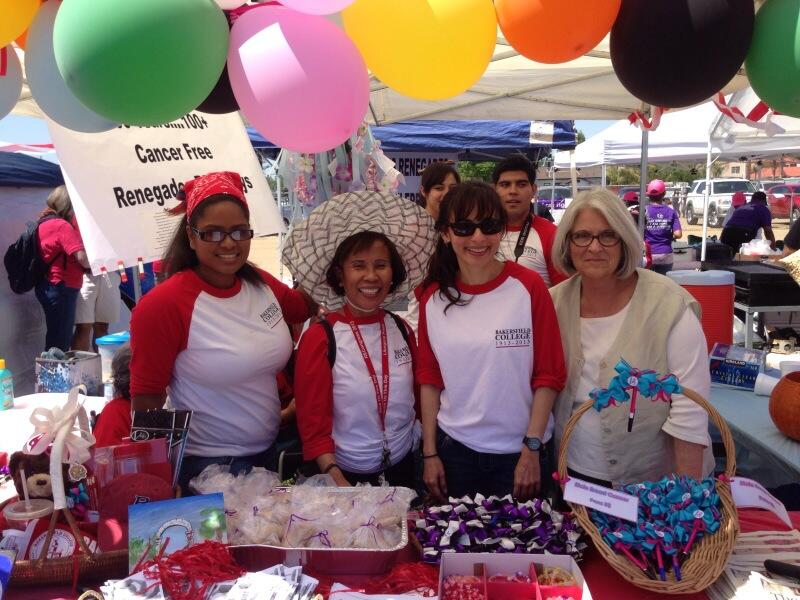 April 29 – Liz Rozell Presented Teaching Award
At the American Society for Engineering Education Zone IV Awards Ceremony aboard the Queen Mary on Friday, April 25th, Liz Rozell received the Outstanding Community College Educator Award from the Pacific Southwest Section. This award is presented for excellence in the instruction of engineering with the purpose to serve as an incentive to advance engineering education. She was accompanied by her daughter, Carly Rozell, also one of her former engineering students who now works as an engineer locally.
*****
March 31: Jason Haffner Wins RadTech Challenge
I am very pleased to announce that Jason Haffner, a sophomore student in the Associate in Science Radiologic Technology Program at Bakersfield College was the 1st place winner of the Student Challenge at the 39th Annual Conference of the Association of Collegiate Educators in Radiologic Technology (ACERT).
ACERT is an educational organization dedicated to improving the quality of education at the collegiate level in radiologic technology. ACERT held its annual meeting on February 5-7, 2014 in Las Vegas, Nevada. The annual meeting provides a forum for the exchange of ideas and information related to collegiate radiologic science education and health professions. As part of each annual meeting ACERT holds a Student Challenge which is a planned sample mock registry exam to prepare students for the licensure certification exam for the American Registry of Radiologic Technologist (ARRT). This year there were 387 students in attendance representing 43 community colleges and universities from across the United States. Nine radiologic technology second-year students and four faculty members represented Bakersfield College at the conference.
*****
February 27 – Oh the Things Our Faculty Can Do!
The event was intended to publicize Lockheed-Martin's P35 Lightning II fighter jet for Congressman David Valadao and for the employees and business partners of Kern Steel Fabrication in Bakersfield, which makes important structural parts for the jet. STEM-IT Dean, Liz Rozell and I were invited by Blair Pruett, a salesman at Kern Steel. Blair is a graduate of Cal Poly San Luis Obispo, and actually taught "shop" classes at Bakersfield High School in my early days there as a student. His passion for Cal Poly and hopes for a strong partnership between the University and Bakersfield College led to an invitation awhile back for us to visit Kern Steel's facility. I know that Liz was impressed with the various applications of the engineering design work being transformed into components for various projects designed by engineers. We saw steel beams for bridges, pressure vessels for energy and petroleum, structures housing different types of equipment, and many examples of the components used for aerospace, marine, and transportation-related products. I was amazed by the application of technology, such as robotics, laser cutting and robotic bending, computer-controlled plasma cutting, as well as good old-fashioned craftsmanship done by hand. It was easy to see the connection between our Engineering program, various Industrial Technology programs, and the work done at Kern Steel.
*****
January 4- Filipino Community Gathers to Support Hurricane Victims. Nov 2013
In November, I headed to Delano, with Executive Vice President Nan Gomez-Heitzeberg, with a check from the Bakersfield College Foundation to support the victims of Hurricane Yolanda.
The Delano Filipino community, under the leadership of Jay Tamsi, came together in a big way to organize support for the victims of the hurricane.
---
2013
On December 13, I wrote about the RN graduation in RN–Renegade Nurse. Dec 12, 2013
Last night I attended the RN graduation and enjoyed every minute of it. All the speakers where inspiring–Dean Cindy Collier, Prof. Lisa Harding, and a few students.
Lisa told the students that they should be proud to be a nurse and even more proud to be a BC nurse. She talked about the tradition of excellence that BC represented over 100 years as well as the qualities of the Renegade Knight. And her signature phrase was telling the students that every time they write RN after their name they should remember that it stood for more than a "Registered Nurse" it stood for a "Renegade Nurse".
*****
In November, I wrote about – BC Featured: Collier Talks Health Care Needs with Assembly Committee
Dean (Cindy) Collier shared that California's healthcare workforce needs are projected to increase dramatically due to both the population growth as well as the population aging. The increase in people accessing healthcare due to the implementation of the Affordable Care Act will only intensify this need, Collier reported. The issue is compounded because funding for health science education at community colleges and universities—the primary sources for training Allied Health professionals—is inadequate. As a result community colleges like Bakersfield College have limited capacity for training, even though the need in Bakersfield and Kern County for healthcare workers is growing. A lack of qualified faculty to increase offerings in local programs exacerbates the problem.
*****
In September, the CCLC Came to Town.
The Community College League of California came to Bakersfield College to hold a small meeting regarding how to properly work with elected officials and communicate the needs of community colleges. Thank you Michele Bresso for making this happen.
Invited were trustees, presidents/chancellors, and governmental relations staff. We were a small, but robust group in the Fireside Room at Bakersfield College as CCLC staffers and our very own Amber Chiang talked about the dos and don'ts of working with Sacramento.
Teresa Tena
*****
In July – Culinary Arts Team Prevails in Mammoth…Again!
Bakersfield College's outstanding Culinary Arts students have prevailed yet again at the Mammoth Food & Wine Experience, which is a fundraising event for Cerro Coso Community College Foundation. This is the team's third straight year of taking the championship at this premier culinary event, which awards a $1000 scholarship to the winning team.
*****
In my April 20 blog, I wrote about Centennial Year Celebration. Planting of the California Oak as I attended the annual Garden Fest.
At 1:00 there was a ceremony to mark the planting of the one hundredth commemorative tree – over the course of the past year ninety-nine commemorative trees have been planted, a wide variety of different trees that will help make the campus an arboretum to enjoy and learn from. The one hundredth is a large oak tree symbolizing stability and selfless giving of shelter, strength and vitality.
*****
That post pairs nicely with this one from March – Planting 100 trees at BC to celebrate 100 years
Yesterday, March 23rd, the Ag department hosted the planting of 50 trees, the second half of the 100 trees in celebration of our Centennial year.Actually, as of yesterday, we have planted 99 of the 100 trees, saving the last tree to be planted during the Garden Fest on April 20th. It will be an Oak tree, and according to Lindsey Ono, Chair of the Ag department, a tree that is known for its beauty, strength and longevity.
*****
---
What am amazing decade it's been!
That's a wrap for now.
See you next Saturday!
I hope you and your loved ones have a wonderful New Year's, and a peaceful 2023.
The future is bright at Kern CCD.
-sonya
a joyful and grateful Chancellor
#KCCDDaringMightyThings
Tagged: #KernCCDDaringMightyThings, Bakersfield College, Cerro Coso College, Kern Community College District, Porterville College, Romeo Agbalog, Sonya Christian